| | | |
| --- | --- | --- |
| | | |
| | 2016: Our 40th Anniversary! | |
2016 Planned And Possible Events:
If you have an idea or want to help organize, speak up! A couple of options are posting to our class Facebook page or sending an email to mail@76islanders.org
Concert In The Park

Spreckels Park BYO Reunion Picnic
Sunday, July 3rd, 2016 at 3:00 pm
Concerts begin at 4 pm
Alumni Program after Concerts
At about 7 pm
Hope to see you all at this casual, fun in the sun BYO food event to reconnect with each other after 40 long years! There will be two concerts, the first starting at 4 pm and the second ending about 7. Once over, we'll have time for some class fun and formalities, like a 70's songs sing along, class cake, and sharing as a group. Musicians welcome! Some say Life's the School, Love's the Lesson. What lesson have you learned from life? Bring your thoughts.

To make sure we have enough celebrating, there will be a table for any appetizers and desserts you might want to bring to share. Name tag blanks will be available for you and your guests, and don't forget to sign in with your contact information. Hosts include Dan Duringer, Leslie Gaffery Brazier, Kate Shanahan Campbell, Lisa Grote Gary.

Let us know if you're coming: mail@76islanders.org




Musicians!




Song Index




Lyric Booklet
Concert Schedule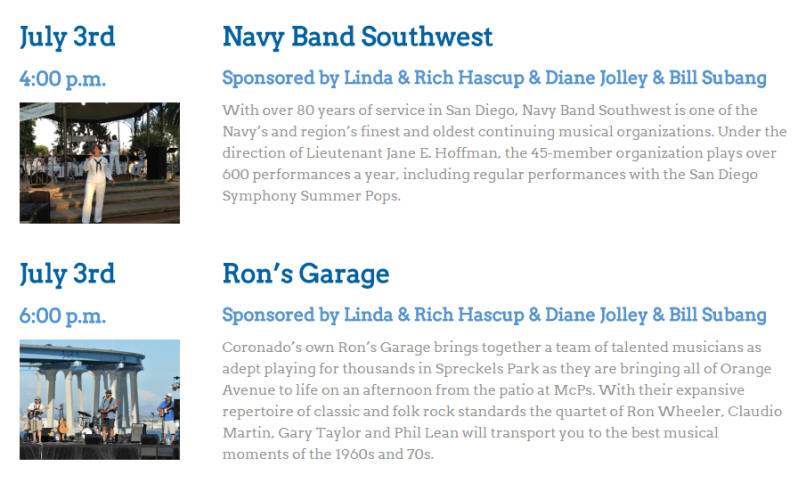 We'll meet in front of McPs Irish Pub & Grill, (1107 Orange Avenue) at 1 pm, then to Hotel Del, Pool, Chart House, along Glorietta Bay riding past the yacht club, tennis courts and golf course, then under the bridge, onto the bay walk to the Coronado Landing, then up Orange Avenue to end at Rick Chapman's Coronado Brewery Company (170 Orange Avenue). See map of route here. Kate (Katie) Shanahan had the idea for this scenic bike ride for our 2011 reunion, and she will lead us again this year.
You are responsible for your own safety during this event. Follow all traffic laws. We will meet as a group after the ride for a brew or other beverage of your pleasure at Rick's. Holland's and Bikes and Beyond have cruisers for rent at $20/$22 per 4 hours or $25/$30 per day respectively. See websites for business hours and possible reservations.



Working On This

: Kate Shanahan Campbell, Dan Duringer
Let us know if you're coming: mail@76islanders.org
Outlaw Coronado Bike Race
Sat, July 2nd, 11 AM
Spreckles Park
Rob Price is inviting alumni to participate in this event.
See more information here on our class Facebook page.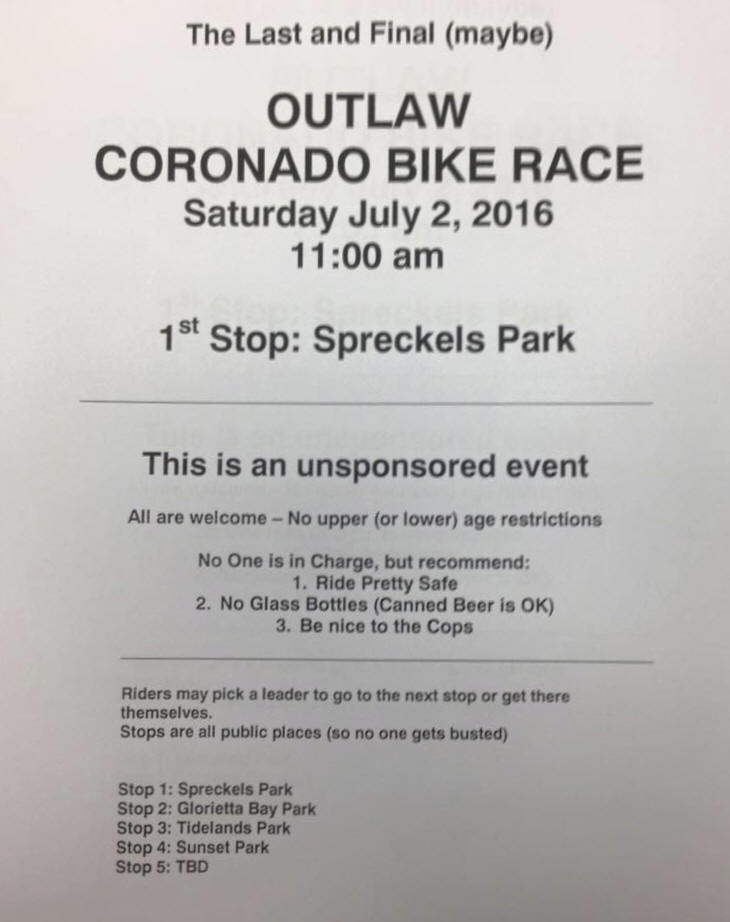 Annual All-Class Reunion, Golf Course
Hosted by the Coronado Bayside Grill at the Golf Course, this event is usually on July 3rd, from 8:00 to 11:30PM. For graduates of Coronado High school and their friends, must be 21 years old to attend. Proceeds help support the Coronado Schools Foundation. Cost: $10 at the door.
2016 Message from the Bayside Grill:
Yes! All class is on Sunday. Starts at 8. $10 cover.
West Coast Iron Work and London Beats are playing.
See you there! Thanks!
Dorene Bailey
General Manager
Coronado Bayside Grill
+ Below Are Yet Unplanned Activities +
Parade Station For Our Class ?
July 4th, 10 am
Location: ?


Working On This

: Rob Price?
Photo Shoot At CHS?
Would be
nice to get some pictures of us at the Tiki and other places around the school.
Date: ?
Time: ?
Working on this: ?
Reunion Dinner?
July 4th Afternoon Party?

Date and Time:
Saturday Night, July 2nd?
Sunday Night, July 3rd?
Monday Afternoon, July 4th?
(All Class Reunion is 8 pm on the 3rd)

Location: ?

Working On This:
Other

Meet Up

Ideas

Saturday, July 2nd


4:15 pm? - Dinner at Miguels Cocina? Working On This:

7 pm? - Meet at North Beach at the rocks to view the sunset? Working On This:

8 pm? - Lambs Player's Theatre? Working On This:
Website: www.LambsPlayers.org

Sunday, July 3rd

6:30 am? - Coronado Beach Walk?

Meet at Central Beach next to the lifeguard towers. Go to the 1134 Cafe for coffee and pastries afterwards.

Working On This

:

10:30 am? - Methodist Church Service?

Everyone invited.

Working On This

:

Monday, July 4th

3:45 pm? - Coronado Museum of History & Art?

Closes at 5:00pm.

Working On This: